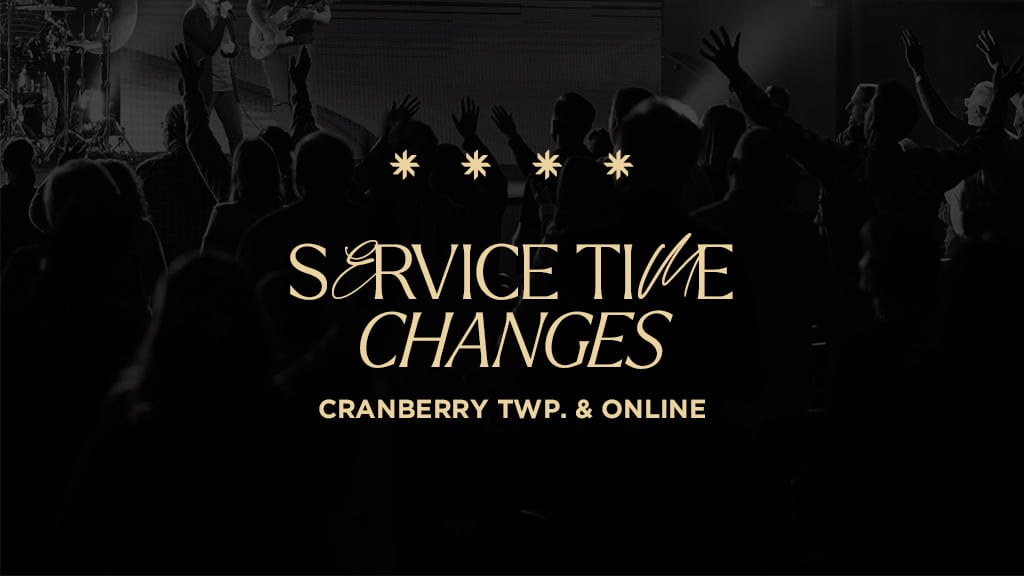 Service Time Change to go into effect on June 4
New Service Times: Sunday at 9 and 11 am
Cranberry Twp. and Online ONLY
Frequently Asked Questions
Why we are moving to 2 Sunday services with the elimination of our Saturday night service at our Cranberry campus?
We hope that you'll take the time to watch the video that Pastor John has put together that explains the heart of this decision. Pastor John and Michelle have always lead Victory Family Church with the value of Surrender to The Holy Spirit. Over the last two years, they have felt God speaking to them about eliminating Saturday night service at our Cranberry Township campus and unifying the church using one day. Having two Sunday services will help to prioritize the health of our Dream Team (volunteers) by giving them the opportunity to serve at one service, and attend one service, without having to be there for a full weekend.
Start With People is also a core value of Victory Family Church, and while we're full of people who love God, love people, and serve sacrificially – it is our responsibility to care for the laborers who are helping us reach the lost. We understand that there are people on the other side of these decisions, so we're making them with much prayer and processing, but we also know that obedience to God comes with great reward and fruit. We are going into this next season with an expectation of multiplication for the Kingdom of God!
What if my schedule doesn't allow me to attend church weekly on a Sunday?
If you feel God has called you to make Victory Family Church your home, we will first ask you if it's possible to change your schedule to make Sunday services a priority. We will be adding a 9 am option and will adjust our 10 am service to 11 am. We are also blessed to have an online option, but we would only recommend this for times you cannot attend in person. The weekend message is available Monday morning for you to watch on our YouTube channel. Lastly, if coming to Sunday service is just not an option, there is one other church that currently has a Saturday night service – Northway Christian Community Church.
Now that the building is unoccupied on Saturday evening, will the building be open for other events?
Since the decision to move to two Sunday services was to give our staff and DT a day of rest, for most of the year, we will not be looking to fill the building on Saturday. However, we do have planned events that will take place, such as ManUp, XO Marriage Conference, Women's Conference, Freedom Retreat, etc.
I serve on the DT. How will the move to two Sunday services impact my serving?
First, thank you for serving the people of Victory Family Church and making an incredible impact. Our hope is that you will continue to help us love people by choosing to serve at either our 9 or 11 am service. For those of you who serve in areas of the church that prevent you from being a part of the main service, the back-to-back service times will allow you the opportunity to serve one and attend one. Our team leaders will be working with you to make sure you get plugged in and acclimated to a new service time. That includes any new processes that may follow. In case you were wondering if there's still a need for you to serve…that's a big fat YES!
Will Kids and Student Ministry service times remain the same?
Short answer – Yes. Our kid's ministry (birth – 4th grade) and our Middle School Ministry (5-8th grade) will still be available during our main service times on Sunday at 9 and 11 am. Our High School ministry will still meet on Wednesdays at 6:30 pm.
As we continue to grow as a church, will we ever bring back a Saturday night service?
We are standing in faith and expectation that Victory Family Church will continue to multiply. As our Sunday attendance grows, we do believe that maximizing our service options on a Sunday, and/or following God's leading to plant more campuses, will be the best long-term solution for the church. However, never say never! We will always strive to be led by the Holy Spirit and whatever He has for us in the future.