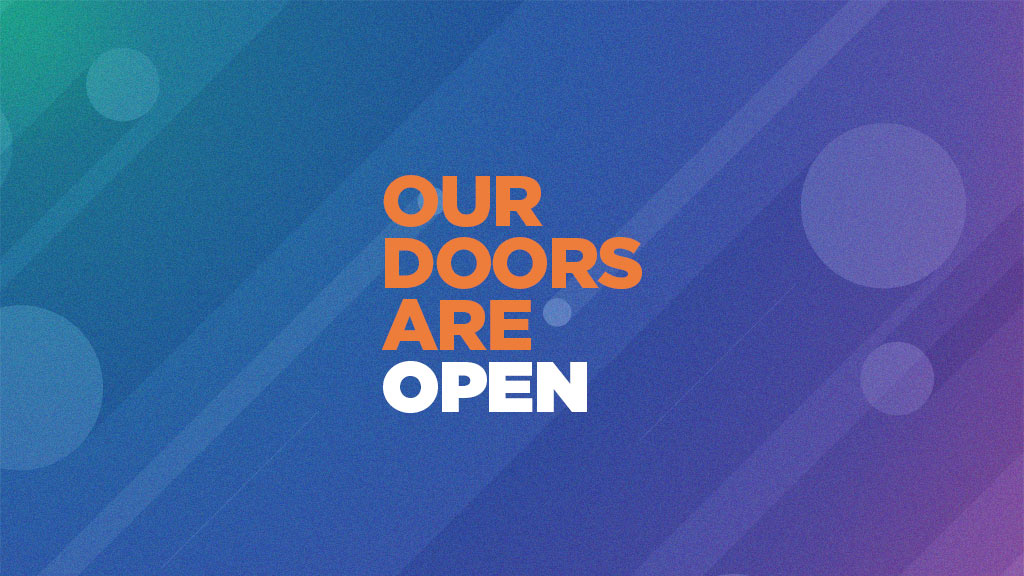 Our Doors are Open
We're committed to creating a safe worship experience. To make that possible, our weekend services have been redesigned to create a sanitary environment that allows for physical distancing.
We are going to continue to have services both in person and online. It's in times like these that the church should play a role as a place of refuge… a place where anyone can come to pray, worship, find healing and hope.
FREQUENTLY ASKED QUESTIONS
Click here to get answers to some frequently-asked questions
Are all activities resuming?
Small groups and Victory Group are now open. We are assessing all other activities on a on a case-by-case basis. We will continue to post updates as activities resume.
What safety precautions are you taking?
Staff members and volunteers will be wearing masks, answering health questionnaires, and having their temperature checked before serving.
Our staff and volunteers won't be offering hugs or handshakes instead they'll be giving enormous smiles and warmhearted welcomes.
Additional hand-sanitizing stations will be placed throughout the building.
Victory services will be a touchless experience.
High-volume areas will be thoroughly sanitized before the service weekend.
Every other row in the sanctuary will be blocked off, and families will be distanced from one another.
What precautions can I take?
If you don't feel well or are in an at-risk category, please join us for church online.
Based on CDC guidelines, you are required to wear a mask.
Wash your hands and use hand sanitizer often.
Maintain a distance of six feet between yourself and other guests.
What's the protocol if a staff member is suspected or confirmed to have COVID-19?
Staff member is sent home and seeks medical attention.
Staff member notifies HR of professional diagnosis.

Negative test result

Staff member must remain symptom free for 24 hours (without using fever reducing medication) and other symptoms have improved before returning to work.

Positive test result

Staff member should stay at home and follow direction of physician.
Remain out of work until at least 10 days have passed since symptoms first appeared, remain symptom free for 24 hours (without fever-reducing medicine) and other symptoms have improved.
HR will initiate contact tracing investigation.
HR will notify individuals who had close contact while maintaining confidentiality of infected employee.

Special cleaning protocols

Wait 24 hours before cleaning and disinfecting to minimize potential for other employees being exposed to respiratory droplets. If waiting 24 hours is not feasible, wait as long as possible.
During this waiting period, if possible, open outside doors and windows to increase air circulation in these areas.
If it has been seven days or more since the sick employee used the facility, additional cleaning and disinfection isn't necessary. Continue routinely cleaning and disinfecting all high-touch surfaces in the facility.
What's the protocol if a staff member had contact with a confirmed COVID-19 case?
Staff member is sent home
If there is close contact and you do NOT get tested and you do NOT have symptoms, you will quarantine for 10 days.
If there is close contact and you DO get tested after five days from contact but the test is negative and you do not have symptoms, you may quarantine for seven days.

Staff will be asked to continue to self-monitor through Day 14, per CDC recommendations.

If staff member develops symptoms during quarantine, follow protocol for "suspected or confirmed" COVID-19 infection.
What's the protocol if a volunteer is suspected or confirmed to have COVID-19?
Similar steps to the above will be taken although we have less of a legal obligation to preserve the identity of the volunteer. With that being said, identity protection should still occur to protect the individuals privacy. HR will work with the Care Coordinator to disseminate information involving volunteers.
How can I connect with other believers during this time?
We value connection and believe one of the best ways to develop relationships is through participation in a small group. We have a variety of small groups that are meeting online or in appropriate settings. Check out our small group finder and join a group!
How can I receive care during this time?
You can contact the church at (724) 453-6200 or by emailing care@lifeatvictory.com. The Help Your Neighbor Outreach Food Distribution and Collection is open Tuesday, Wednesday, and Thursday from 10 am – 2 pm.
What are some additional resources I can access?
How can I help?
VICTORY KIDS AND VICTORY STUDENTS
What precautions are you taking for our Victory Kids and Victory Students?
We are Victory FAMILY Church, which means our doors are open to the whole family! All of our kids classrooms will be fully operational, however, if you choose to put your child into their classroom you voluntarily assume all risks associated with exposure to COVID-19. As a parent, you understand that social distancing children is not that simple, but the safety and well-being of our Victory family is very important to us, so we have taken the following precautions:
Every volunteer will go through a screening process, including a health questionnaire and temperature check before being admitted to serve in the classrooms.
Every child will receive a temperature check before entering their classroom.
Rooms, toys, and surfaces will be disinfected before and after each service.
Soft play room will remain closed until further notice.
What are some online resources available for Victory Kids and Victory Students?
While we understand that you might not feel comfortable putting your child back into their classroom just yet, we still encourage you to continue teaching your kids about Jesus using the Virtual Classroom.
Your middle school and high school students can stay tuned to our Echo and SOZO social media platforms for relevant content and online services.