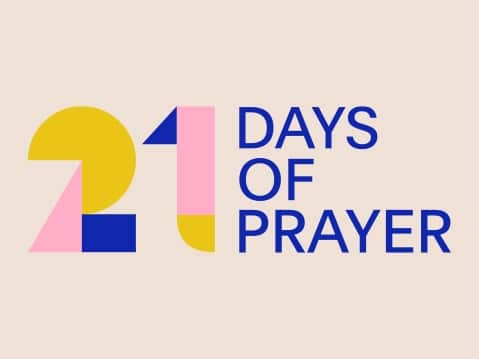 21 Days of Prayer
January 6 – 26
At Victory, it's a priority to seek God first in prayer. From January 6 – 26, we will faithfully seek God together as a church, trusting in His power to create lasting impact in our lives.
Prayer and Worship
Prayer and worship will be held in the Main Sanctuary on weekday evenings from 7 to 8 pm and on Saturday mornings from 9 to 10 am..
Helpful resources
Prayer guide
Interested in learning more about prayer? This guide presents 7 models of prayer from the Bible. Download the guide today and start learning how to create a lifestyle of prayer.
Kids guide
As you devote yourself to prayer and fasting, you'll actually be modeling these two powerful tools for your children. You can help them better understand and even participate by downloading our kids prayer guide.
Why Pray?
Why should we pray and fast? What's the purpose of prayer and fasting? Or, you might ask, "What's the use?" Does my prayer or fasting somehow compel God to do something He doesn't want to do? If God desires to do something, then why doesn't He just do it? Why would He need me to ask Him? Does my refraining from eating really impact God? Can't He remember what He wants to do if my stomach is full? If you lack a biblical understanding of prayer and fasting, these questions will negatively impact you and you'll quickly see prayer as futile and unnecessary. Jesus said to His disciples in Luke 10:19, "I have given you authority (exousian) to trample on snakes and scorpions and to overcome all the power (dunamin) of the enemy; nothing will harm you." The Greek word for authority in this verse is exousian. Authority is delegated power. It's what a policeman exercises when he puts up his hand and stops an eighteen-wheel truck. He doesn't have the physical power to stop the truck, however, he does have the authority to stop it. The driver is responding to the authority or delegated power that the officer possesses, not to his physical power. If he disobeys that officer or runs him over, the full force of all local, state, and federal authorities will come to bear upon the driver. The driver doesn't fear the officer, but he fears the power behind him. The Greek word in this verse for power is dunamin. It's where we get the English word for dynamite. Jesus actually said, "Behold, I have given you authority, or delegated my power to you, and enabled you to exercise authority over all the power or abilities of the enemy, Satan." After the resurrection, Jesus said to his disciples in Matthew 28:18-20, "All authority in heaven and on earth has been given to me. Therefore, you go and make disciples of all nations, baptizing them in the name of the Father and of the Son and of the Holy Spirit, and teaching them to obey everything I have commanded you. And surely I am with you always, to the very end of the age."
These two verses, along with many others, relay a critical truth that every Christian must know. That truth is that Jesus delegated His authority to the church, and whether that authority gets exercised on the earth is no longer in God's hands but in ours. He has commissioned us, in His name, to act in His stead. This is why we pray in Jesus' name. We, His Body, are the part of Christ that remains upon the earth. We are the part that has been entrusted and enabled to act in His name. The usage of "the name of Jesus" is a type of a power of attorney. When we pray, we are bringing to bear the power of God upon a dark and sin-stained world. This is not only true for prayer, but also for the preaching of the gospel. God will not share the gospel with our generation, nor will angels. The sharing of the gospel has been commissioned to the Church— specifically, you and me! The command for us to preach the gospel to every person is one of the last things Jesus said before he ascended into heaven. Always remember, there is a God side and a man side to every spiritual equation. The difficulty occurs when we don't understand the all-important balance between the two.
Why Fast?
Fasting doesn't move God, but it does change us. Fasting helps us recognize that we are not physical beings, but spiritual beings who are temporarily living in a physical body. The reason we fast is very simple. Fasting is when you purposely deny your flesh or outer man. It is in doing this over an extended period of time that something incredible occurs. You will begin to clearly see the difference between your inner and outer man. The part of us that is eternal is the inward man. The part of us that is temporal, mortal, or death-doomed is our body, or our outer man. The Scripture calls our inward man the "hidden man of the heart." Fasting permits us to purposely let the inward man gain the ascendancy over the outer man or our flesh, and "come out of hiding." Most Christians live and die and never learn to live from the inward man or learn to distinguish the difference between the spirit and the flesh. They begin to think that the way they feel is the way they are. What a terrible and costly deception. Our feelings don't define us. Rather, who we are in Christ, God's view of us, and His plan define who we are. The Scriptures tell us that our inward man delights to do the will of God, but our flesh rebels against it. Fasting lets you learn to hear the voice of your inward man and quiet and deny the voice of the outer man.
Fasting does not impress or move God. God does not move in our lives because we choose to deny ourselves and fast. Fasting does not change God! Fasting changes us! We are the ones in need of changing. Be cautious to not connect the experiences of intimacy and blessing with God during your fast to God touching you because of your efforts. Actually, it's just the opposite. Fasting provides us with the opportunity to experience the fullness of Christ and His redemption by simply letting the life of God within us find an expression in our everyday lives. When we live out of our inward man, led by the Holy Spirit, it changes the metrics from which we choose. Our choices are largely responsible for the quality of life that we live. When we choose out of the inward man, we are choosing in line with the will of God. Fasting helps us step into the blessings that are already hovering over God's will and plan for our lives. Otherwise, we invoke or plead with God to bless our plans and purposes. Remember, His will is already fully empowered with His grace, favor, and blessings!
How to Fast
There are so many different kinds of fasts. Instead of listing the numerous types of fasts, I prefer to suggest options for you to consider. Sometimes people do very extreme things when fasting, thinking that the extreme nature impresses or moves God. IT DOES NOT! Remember, fasting is about denying your flesh and becoming sensitive to your inward man and to the Holy Spirit. It's about being governed by God's Word and His Voice. If you follow through with the suggested fasting options, you are going to have a lot more time on your hands. Invest it in feeding your inward man with God's Word, prayer, and spending time with those who you love. Look for ways to be unselfish with family and those you interact with. Look for ways to meet the needs of others in very intentional ways. Take the money you save from eating less and give it to someone or a family in need. For the next 21 days, consider doing some or all of the following:
Don't watch any television or movies.
Don't use the internet for anything other than work or necessity.
Stay off of all social media.
Use your phone only for needed communication.
Eat only what is necessary to provide adequate nourishment.
You can skip meals, but it isn't necessary. Denying yourself each time you eat is actually harder and more effective in teaching you to deny yourself (flesh).
Drink a lot of water and only water.
If you drink coffee in the morning, continue to do so. The 4-day headache you will get coming off of caffeine is not what fasting is about.
Don't eat any sugar, sweets, bread, or processed foods.
Eat less than you would normally eat at every meal.
Read at least two books that are about enhancing your spiritual life.
Start each day with a daily devotional that you will continue after your fast ends (ex. set a time and a DAILY appointment, be still and worship, pray, read the Word, listen and write).
Read Scriptures throughout the day or read a book that enhances your spiritual life when you normally would be filling it with other things.
Pray throughout the day. (If you are filled with the Holy Spirit, then pray in the Spirit. If you are not, then come forward at the end of a church service and receive the Baptism of The Holy Spirit.)
Write down the meaningful things you learn or that the Lord may speak to your heart throughout your day.
Write down specific things that God directs you to do and follow through with them. His direction is sacred, and remember, the very God of the universe is speaking to you.
Be careful not to use your words to speak negatively about anyone. Don't engage in conversations that tear others down.
Use your words to intentionally lift and build others up.
Don't be legalistic. If you fail and indulge yourself, simply move on and continue your fast. This isn't about perfection, but an opportunity to put God first in your life.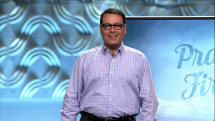 Teach Us to Pray
Watch now >>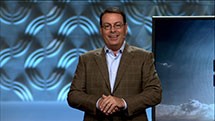 A Lifestyle of Prayer
Watch now >>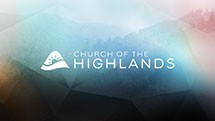 Prayer and Fasting
Watch now >>